Information on the Visit Grand Isle page includes a calendar with festival dates, local restaurants, fresh local seafood, and things to do like fishing.
Calendar
| | | |
| --- | --- | --- |
| Event | Date | More Info |
| Paddle Palooza | April 28-29 | Bayou Coast Kayak Fishing Club Rodeo at Bridge Side Marina |
| Serenity By the Sea | April 29- May 1 | A Weekend of Fellowship, Food, and Fun! Held at Grand Isle High School. |
| Annual Cruising the Beach Car Show | May 7 | At the Tarpon Rodeo Pavilion |
| ABC Fishing Rodeo | May 18-20 | Sand Dollar Marina |
| Stan Brock Black and Gold Classic | May 19-20 | A sporting clays competition and fishing tournament. www.blackandgoldclassic.com |
| Grand Isle Speckled Trout Rodeo | May 26-28 | At Bridge Side Marina |
| Island Wide Garage Sale | May 27 | |
| New Orleans Electrical Association Rodeo | June 3-4 | Sand Dollar Marina |
| OMSA Annual Cajun Tropic Fishing Invitational | June 3 | Bridge Side Marina |
| Swollfest Fishing Rodeo | June 7-10 | 19th Annual construction Fishing Rodeo begins. This is only an extra fishing day. There is no weigh-in, registration, food, or beverage served today |
| CASA of Lafourche Rodeo | June 10 | At Bridge Side Marina |
| Ed White Rodeo | June 17 | At Bridge Side Marina |
| Creole Classic Fishing Tournament | June 23-25 | At Bridge Side Marina |
| LA Pipeliners Association Rodeo | June 24-25 | At Sand Dollar Marina |
| Annual Fireworks and Band | July 1 | At Bridge Side Marina |
| Louisiana Dental Association Fishing Rodeo | July 14-15 | At Sand Dollar Marina |
| South Lafourche Cheerleading Fishing Rodeo | July 22 | At Bridge Side Marina |
| International Grand Isle Tarpon Rodeo | July 27-29 | At Sand Dollar Marina |
| Mike Bourgeois "Big Daddy" Memorial Rodeo | Aug 5 | At Bridge Side Marina |
| 2nd Annual Bowfishing Classic | Aug 11-12 | At Bridge Side Marina |
| Dufrene Building Rodeo | Aug 19 | At Bridge Side Marina |
| CCA GOPRO Film Festival | Aug 25 | At Bridge Side Marina |
| 56th Grand Isle Original Redfish Rodeo | Sept 1-3 | At Bridge Side Marina |
| Caminada Redfish Rodeo | Sept 23-25 | At  Sand Dollar Marina |
| Grand Isle Ladies Fishing Rodeo | Oct 7 | At Bridge Side Marina |
| Annual Christmas Tree Lighting Program | Dec 7 | At the Grand Isle Community Center |
Restaurants
I recommend the service at this cozy, casual family restaurant. The family who owns and runs Yum's really cares about their customers in their own special way. The restaurant serves daily plate lunch specials, fresh local seafood, quesadillas, sandwiches, wraps, soups, and salads.
---
This little grill restaurant is located inside the Conoco gas station. They have great hamburgers, poboys, chicken tenders, pizza, famous Natchitoches meat pies (very tasty experience of Louisiana food), jambalaya, and gumbo. Jo Bob's Gas and Grill has a little dining area inside and outside under the building, but we usually like to take our food to-go and eat at some of the more picturesque spots on the Island or even at the Inn or Cottages.
---
Locally owned, Starfish is a cozy, casual food spot. They serve fried seafood as well as dinner plates and sandwiches. I recommend their fresh, never frozen flame broiled and grilled hamburgers, daily lunch specials, and fresh & hot beignets and funnel sticks!
---
A relaxing restaurant that serves seafood platters, prime steaks, pasta dishes, and has a full bar.
---
One of the best dining spots in the area. Everything on the menu is honestly good! Moran's is known for their seafood crepes and prime steaks. The ambiance is pure Louisiana with lots of Louisiana Cypress and a true Louisiana feeling in their decor and service.
---
They offer a stylish, intimate setting, and serve seafood dishes made only from the freshest ingredients. Their dishes, such as blackened shrimp guacamole and Asian grilled tuna, are sure to please!
Fresh Local Seafood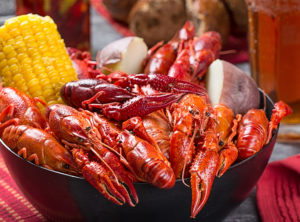 Camardelle's Seafood 1018 Hwy 1 Grand Isle 985-787-3222. Hours vary. Call ahead of time when you're on the way to the island so they have what you would like; they will save it for you if you call but if not they may run out, its fresh after all!
The Cheniere, a little stop on the highway just before you get to Grand Isle bridge on the right, offers fresh boiled crawfish (gotta love 'em!), as well as live crawfish and crabs that you can boil at Blue Dolphin Inn & Cottages! We provide gas burners and pots for your boiling experience. FYI, you should plan on heading to Sureway Supermarket on the Island to pick up your cooking needs including shrimp and crab boil, lemons, garlic, corn, and new potatoes.
---
Dean Blanchard Seafood  195 Cypress Lane, Grand Isle 985-787-3464 Open Mon-Sat 8am-6pm. Closed Sunday.
This terrific slice of life is where you can buy fresh shrimp that were caught in the last few hours and pay amazingly low prices for them. Experienced people bring their coolers and take these lovely shrimp back home to cook or freeze. We just show up when we want to cook them for dinner! Super friendly people and definitely an experience in true cajun life….
Catch Your Own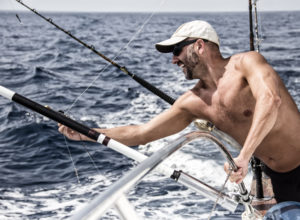 Fish from one of the piers (see Fishing Page), from the beach, your boat or even one of our kayaks. We have fish cleaning and cooking facilities for use free of charge for our guests.
Things to Do
Relax at The Inn and Cottages with views of the beach, play at the beach, go fishing, go to the Butterfly Dome, visit the Grand Isle State Park, tour Elmer's Island Wildlife Refuge, go kayaking in the gulf, take a boat ride, or drive 107 miles northeast to New Orleans and experience the historical city of jazz music.