Grand Isle is a fishing paradise! With over 280 species of fish and four seasons that bring a different variety, catching fish here is a year-round activity that is very special to Louisiana. There is something for everyone in our waters. Whether you love speckled trout, redfish, flounder, black drum, sheepshead, amberjack, wahoo, tuna, or other seafood, such as shrimp and crabs, we have a large variety awaiting you in Grand Isle. Fish from the beach, take a charter with a guide or take to one of Grand Isle's fishing piers listed below.
Pier
Fishing Pier at Grand Isle State Park 
Admiral Craik Drive
Grand Isle, LA 70358
985-787-2559 or 888-787-2559 toll free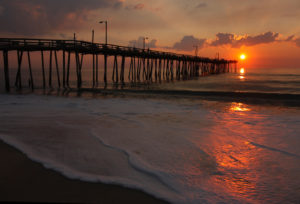 This 400 ft lighted fishing pier is within our beautiful state park's natural haven. Grand Isle State Park is open Mondays through Thursdays, from 6:00 am to 9:00 pm. On Fridays and Saturdays, they open from 6:00 am to 10:00 pm. The entrance cost is $2.00 per person.
The Old Grand Isle Fishing Bridge
(Caminada Pass)
First built in 1932, the Caminada Pass (bridge) is situated next to Grand Isle, off Louisiana's coast. Year-round it brings travelers to the Western end of the island; however, this channel of deep water, also known as 'the cheniere', has been closed to cars since the 1960s. The bridge attracts avid fishermen in Southeast Louisiana who see no need to fish anywhere else — since the redfish here can get really big.
The Pier at the end of Smith Lane
On Hwy 1
The pier at the end of Smith Lane is just a mile and a half past the Blue Dolphin Inn & Cottages. It is handicap accessible.
Fishing
Fishing in the Gulf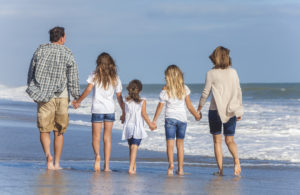 Wear waders and fish from the shore. Staying at Blue Dolphin Inn & Cottages makes it convenient to wake up in the morning and walk directly on the beach to fish in the gulf.
Fishing in the bay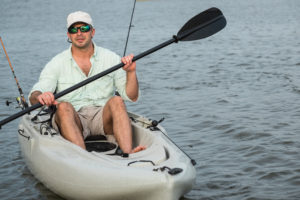 You can catch fish from the bank. Even though we do not have reefs in Grand Isle, we do have jetty rocks that more often than not hold fish. Even on slow days!
Deep sea fishing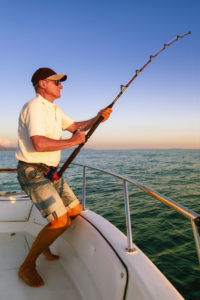 Everyone who fishes knows that the gulf waters at the mouth of the Mississippi River are the richest waters in the southern part of the US. Hire a charter to take you deep out into the Gulf of Mexico for a new and rewarding fishing experience.
Gotcha Charters (Offshore) Captain Bobby Terrebonne (985) 870-2142
A Day in Paradise
Capt. Pete Besson
504-382-0174
(Inland, Coastal, Offshore)
Bay Coast Charters
Capt. Zutie Auenson
985-637-3177
(Inland, Coastal)
Bent Rod Offshore
Capt. Kenny Heikanp
985-817-0117
(Offshore)
Bon Chance Fishing
Capt. Bobby Chouest
985-637-3979
(Inland, Coastal)
Calmwater Charters
Capt. Danny Wray
225-721-8182
(Inland, Coastal)
Cast & Catch
Capt. Darren Anselmi
985-665-0745
(Inland, Coastal)
Comfort Zone
Capt.Littleton Hudgins
985-309-0536
(Offshore)
Dream Catcher
Capt. Michael Price
225-791-1789
(Inland, Coastal)
Dream Catcher Guide Service 
Capt. "D"
225-572-8927
(Inland, Coastal, Offshore)
Fintastic Charters
Capt. John Chauvin
985-665-4586
(Inland, Coastal)
Fish-N-Tell
Capt. Barry Schexnaydre
225-938-2419
(Inland, Coastal)
Follow Me Charters
Capt. Edward Cerise
504-610-9639
(Inland, Coastal)
For Petes Sake
Capt. Carl Peter Boggs
337-654-4511
(Inland, Coastal)
Full Draw Bowfishing
Capt. Craig Pizani
985-665-7400
(Inland, Coastal)
Good Times Charters
Capt. Jake Scardino
504-464-7909
(Inland, Coastal)
Gotta Go Fishing Charters
Capt. Ricky Watts
225-921-3642
(Inland, Coastal)
Go Get 'Em Charters
Capt. Jody Auenson
985-787-2067
(Inland)
Hawk Eye Fishing Charters Inc
Capt.John Aucoin
985-637-1103
(Inland, Coastal, Offshore)
H & M Charters
Capt. Jules Bellanger
985 258 3632
(Inland, Coastal)
Hard Times Charters
Capt. Mark Scardino
985-787-3529
(Inland, Coastal, Offshore)
Hook'em Fishing
Capt. Jay Auseve
985-637-7142
(Inland, Coastal)
Hot Rods Guide Service
Capt. Craig Bielkiewicz
225-278-9107
(Inland, Coastal, Offshore)
Laid Back Charter
Capt. Frank Dreher
225-202-2584
(Inland, Coastal, Offshore)
Nauti or Knot Charters
Capt. Dennis and Amanda Menard
nautiorknotcharters@gmail.com
337-296-1659
(Inland, Coastal, Offshore)
Pair-A-Dice Charters
Capt. Keith Bergeron
985-860-7855
(Inland, Coastal)
Pure Pleasure Offshore Charter Fishing
Capt. Bobby
985-870-2142
(Inland, Coastal, Offshore)
Reel Screamers Guide Service
Capt. Daryl Carpenter
225-937-6288
(Inland, Coastal, Offshore)
Rippin Lips
Capt. Michael Guidry
985-637-4292
(Inland, Coastal)
Spots and Specks
Capt. Eddie Berthelot, Jr.
985-637-3177
(Inland, Coastal)
Local Tides
To check on the tides click on the link below, then on the left-hand side of the page click on the "High tides and low tides" option. There is a number of other options available for the area, such as weather, water temperature, swell, and lunar activities.
Grand Isle, LA – Click here
Elmer's Island, LA – Click here
Port Fourchon, LA – Click here